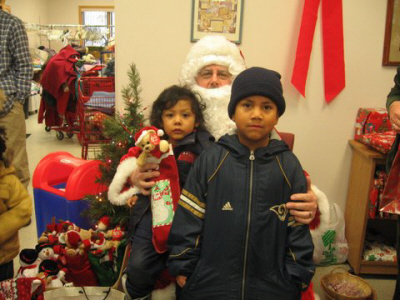 As the weather begins to cool, leaves turn their radiant colors, and we move into the fall season, Olivet Mission is busy planning ahead for the
Holiday Adoption
programs they offer for Thanksgiving and Christmas. They would like to ask you to consider helping other families that are living in poverty by sponsoring a family/families to provide a Thanksgiving food basket and/or Christmas gifts for the children of families requesting assistance.
There are many individuals and families in the Cedar Rapids area that have significant needs and are forced to make tough decisions daily about providing food for their family, paying the rent or mortgage, paying for transportation, or paying for medical bills. For many families this is the only way they can provide Thanksgiving and/or Christmas for their children. Linn County reports that 12.5% of the county's population is food insecure, meaning they do not have the ability to acquire nutritionally adequate and safe foods in socially acceptable ways. This translates to over 27,000 persons.
Olivet will soon be registering families requesting holiday assistance. Please consider being a sponsor and find the personal rewards of giving to help others. To sign up as a sponsor, please fill out the
Request for Sponsors Form
. If you have questions or would like more information please contact
holiday.onm@gmail.com
.